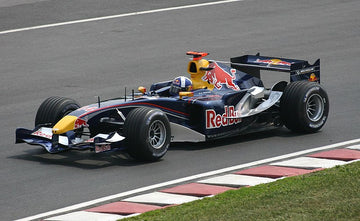 In contrast to some of the other teams in Formula 1 Red Bull Racing are one of the youngest, making their debut in 2004.  However, in this short time they have developed into one of the most successful teams in Formula 1 history.  The Red Bull Racing team built strong foundations from the very beginning, knowing these were essential for any team to succeed in the highly competitive world of F1.  It is the infrastructure of a team that brings long term success, which is an aspect Red Bull understood from the beginning.  Designers and engineers, mechanics and drivers, all contributing to the ongoing development and growth of the team.
The first few years of the Red Bull Racing team saw mid-table results as the team found its feet, with the first podium coming in 2006, when David Coulthard took third place at the 2006 Monaco Grand Prix.  The team stayed in the midfield for a couple more years, until 2009 when they soared into the stratosphere.  A year before, Sebastian Vettel joined the Red Bull Racing team, coinciding with rules changes regarding aerodynamics which the Red Bull designers got the maximum benefit from.  The 2009 Chinese Grand Prix saw Red Bull's first race victory as Sebastian Vettel led home his team-mate Mark Webber for a historic 1-2 finish.  The team secured five more victories that year, including Mark Webber's first Formula 1 win, at the Nurburgring.  Red Bull Racing achieved second place in the F1 constructors championship that year, marking a huge step up and announcing their arrival as serious competitors against more historic names. 
The 2010 season saw Red Bull Racing carry on from where they had left off previously, and at the final race of the season either of the team's drivers could have won the championship.  In the end the title went to Sebastian Vettel, with the constructors championship already won at the round before.  2011 saw Red Bull Racing dominate the season, with Vettel again champion, with four races to spare and the team winning the constructors championship with three races in hand.  2012 and 2013 saw rival teams become more competitive but to no avail as Red Bull Racing again took both driver and constructor championships.
2014 saw more rule changes, this time to the power units, and Red Bull Racing found themselves at something of a disadvantage.  However, they still took second place in the constructors championship whilst their new driver, Daniel Ricciardo, took his first three Formula 1 race wins, ending the season third in the driver's championship.  The following years saw Red Bull jostling with their competitors and whilst race wins were still forthcoming they fell short in the driver and constructor championships.  This all changed in 2021, when Max Verstappen, who had developed greatly as a driver within the Red Bull team over the previous few years, took the driver's championship in arguably controversial circumstances, though his many victories over the course of the season cannot be denied. 

Shop our Red Bull Racing prints